On Sustainability
At our core, our mission is to constantly invent new and sustainably innovative ways to create the most effective skincare products. We are energized by our vision of change—one that leads to a better looking, better feeling future for us all.
Our framework for sustainability is rooted in our ongoing pursuit to address the interconnected factors that impact environmental, social, and economic balance. We make all our decisions carefully—intentionally—because we understand what's at stake: our bodies, our planet, each other.
Brands often use sustainability as a buzz word or to check off a box as if their work is done. But for us, sustainability is a constant—an evolving goal to continually improve upon so that we can find better, more efficient solutions for making effective skincare products.
This desire to keep doing better is at the center of how we operate. It's not enough to simply use recycled packaging or organic ingredients, or to leave meaningful change in the hands of consumers. Not only does the job require persistent vision and creative problem solving, but, above all, it comes with a moral obligation to consider the impact we have as creators.
Read more About Us
The next wave of skincare must go beyond a stellar-looking, well-hyped ingredient list. At Circumference, it's not only what's inside the bottle that counts. It's the where. It's the how.
That's why we only source sustainable, natural, plant-based materials from their own native growing regions, where they are known to most healthfully thrive, and why we only use extraction methods that uphold the highest ingredient integrity.
We do everything we can to avoid, or find function in, waste. Adopting a root-to-leaf mantra, we aim to utilize every element of harvested flora by applying unexpected processes and techniques.
Conscious Sourcing
Creating sustainable skincare products is contingent on our conscientious choices around ingredients. While desirable botanicals can be at risk of overharvesting, there also exist naturally affluent crops that are much more resilient and require less effort to keep sustainable. We do our best to seek out sustainable, efficient materials and test their nutritional values and active levels for inclusion in our formulas.
Fair Practices & Social Responsibility
We're committed to a business model that strengthens fair practices and better working conditions. Farmers and producers in developing countries are often incentivized to convert their production to more commercially desirable agriculture, often at the cost of their health and environment. Our goal is to always support independent producers, suppliers, and farmers using fair practices that make it economically possible for them to continue. This encourages local producers to keep growing plants that are indigenous to their region, upholding economic and cultural significance to their communities at large.
Safety for those that tend to our products is paramount. We work with our manufacturing partners to establish safer production and manufacturing methods and handling of materials. We also work alongside them to develop new programs and initiatives to enhance working conditions, improve wage systems, and create hiring opportunities.
Transparency Comes with the Territory
Because we source plants from their native areas, we're able to trace each of our ingredients to its origin and ensure they are cultivated and harvested to our high standards. The added visibility also allows us to maintain the safety and fair treatment of all those involved in producing our goods. This transparency is a natural byproduct of our production decisions. There's simply a lot less to hide when things are done in harmony with nature, with mindfulness and respect.
Toxin-free
There are over 1,000 proven-harmful chemicals being used in cosmetics and beauty products today, and the list continues to grow as more studies are conducted. As part of our commitment to our health and our environment, we closely review our formulations as new information comes to light, and adjust swiftly and accordingly.
The following toxic chemicals and compounds are always and forever banished from our labels:
Animal-Derived (Fat and Musk)
BHA (Butylated Hydroxyanisole)
Mercury and Mercury Compounds
Mineral Oil
Sodium Lauryl Sulfate (SLS) & Sodium Laureth Sulfate (SLES)
Formaldehyde and FRP's (Formaldehyde-Releasing Preservatives)
Methylisothiazolinone (MIT) and Methylchloroisothiazolinone (CMIT)
Synthetic Fragrances
Phthalates
Upcycling Raw Botanical Materials
Looking more closely at the idea of throwing things away, it becomes clear that 'away' doesn't exist. An item that falls out of cycles of use doesn't go 'away,' it renders the place where it ends up unusable—a landfill, a river that stops fulfilling its functions. We're reassessing that destination, the place where it ends up unusable. One thing we're doing is upcycling extracted raw materials. By drying it into mulch, it can be used as compost back at the original source, or at partnering farms in upstate New York.
Replenishing our skin while replenishing our Earth—that's a waste-free win-win.
Alternative Packaging Options
Recycled, recyclable, biodegradable packaging is just the beginning. Alternative packaging such as bioplastics and mycelium-based packages are being implemented across multiple industries. We'll invest our efforts toward testing these packaging solutions against skincare and beauty products without sacrificing the efficacy, safety, or stability of our products.
Where we are today:
We never use single-use plastics. This means we aren't producing single-use samples, and won't until we can find better packaging alternatives.
We only use recyclable materials. We choose packaging that can be easily recycled, such as glass and paper.
Our paper materials are all certified by the FSC (Forestry Stewardship Council), the standard bearer of sustainable lumber product sourcing.
We only print using soy-based inks & dyes. Natural ingredients give our products radiant colors and provide for an environmentally-friendly, low-impact, post-consumer experience.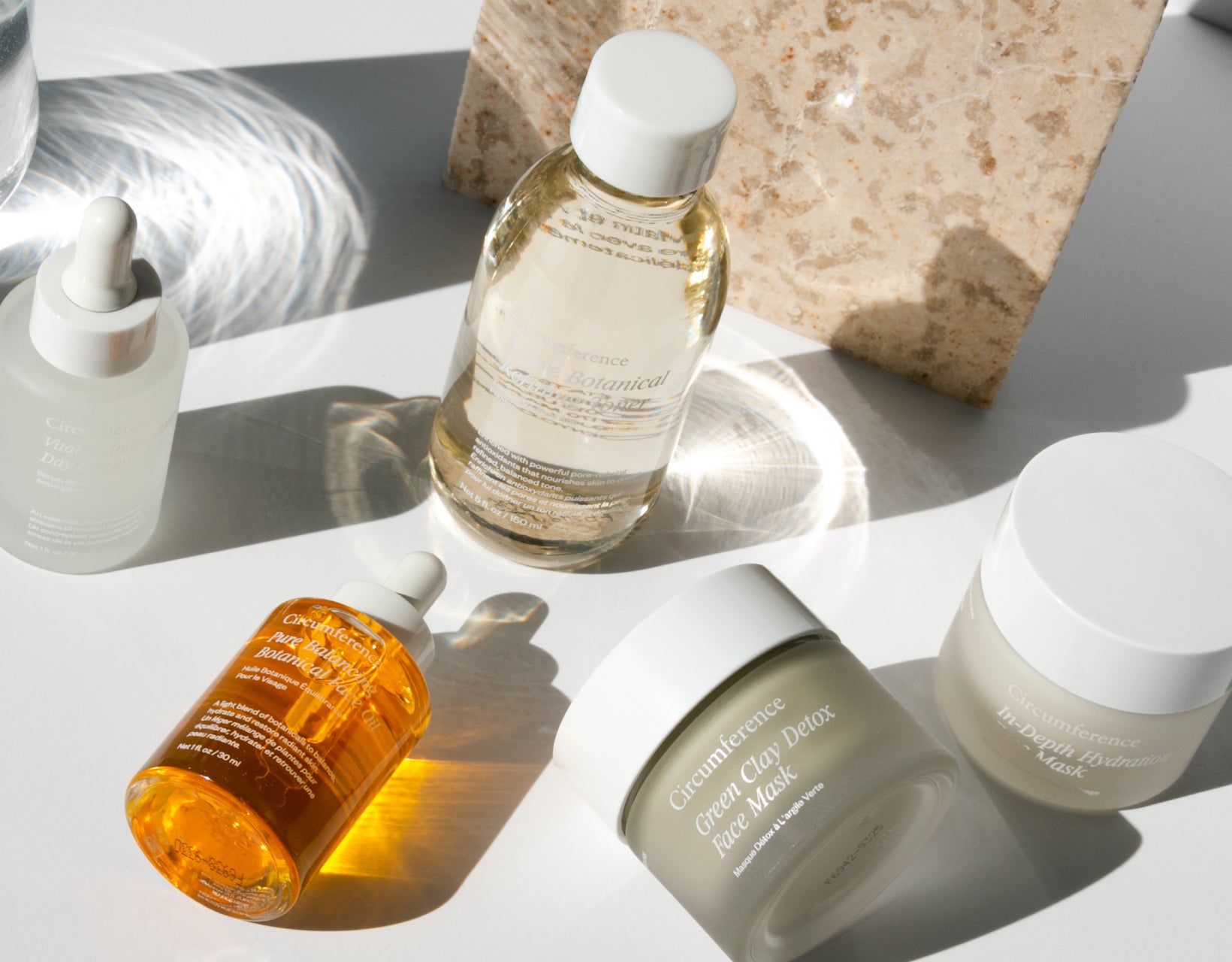 Driven by a constant need to do better, we're building a new model for how the beauty industry operates and redefines positive impact. We're changing the game. From the outside in, and the inside out.
Everything we do is grounded in our sustainability principles, and our products reflect that. From choosing high quality extracts, to developing safe cultivation processes and renewable supply chains, we're always innovating and refining what it means to create future-forward skincare.
About Us
Shop Now